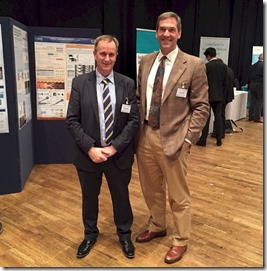 Forclarity's founder Bruce Lynn (above right) attended the Colorectal Therapies Healthcare Technologies Cooperative National Meeting this Tuesday hosted at the Royal Armories Museum in Leeds. Organised by Professor David Jayne (above left) at The Royal Armories in Leeds, UK.
The event covered a range of technologies and innovations from nanotechnology to robotics and personalised medicine. The day also included presentations of example trials by students at Leeds Socio-Technical Centre. And for one of the most intimate illustrations of a patient's odyssey, the short play "Gutted" was staged for the audience over lunch break with an unflinchingly candid portrayal of both the pain and aggravation as well as the lighter absurdities of living with the inflammatory bowel disease Ulcerative Colitis.
In the afternoon, Lynn facilitated and presented the break-out discussion "Seeing the invisible: new imaging technologies for precision surgery" with Graeme Hall (Brandon Medical) and Aaron Quyn (Leeds University). This table explored new technologies that enhance intraoperative imaging and facilitate precision surgery discussing areas of technical difficulty in the diagnostic and interventional setting where enhanced imaging can facilitate improved clinician performance and safer patient outcomes. The discussion by such a diverse group underscored the breadth of opportunities in the medical imaging field.